The WHY of Peruvian Classics (Part 4): Fair-Trade and the Artisans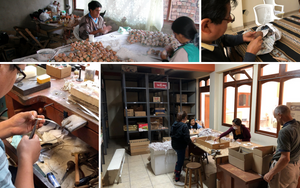 While the primary mission of Ends of the Earth Treasures is unapologetically evangelistic, we seek to have a positive impact in every area of our work. By carefully sourcing authentic Peruvian products and working with a trusted partner in Peru we can do the most good with our funds.
The Artisans
Due to the lack of employment opportunities in Peru, many artisans in Peru must support their entire families with whatever money they make from selling their hand-made crafts.  Although the artisan work is steeped in a tradition, and is of the utmost in quality and authenticity, the majority of people in Peru are too poor to buy from one another. Unfair business practices often take advantage of many artisans who are unfamiliar with the true value of their work. Ends of the Earth Treasures considers the selling of authentic Peruvian goods not only as an opportunity to generate funds to support Scripture Union of Peru, but also an opportunity to support artisans in passing down their artistic traditions to the next generation and preventing those children from having to seek food and money on the streets.
To find these amazing products, we work with Manos Amigas, a Fair-Trade certified, Lima, Peru-based export company. Manos Amigas works with small groups of artisans in impoverished areas of Lima and in the Andean highlands.  In addition to paying Fair Trade prices, Manos Amigas offers training workshops for their artisans, and participates in international trade fairs to gain new markets for artisans. 
 What is Fair Trade?  The term "fair trade" applies to a system of trade designed to provide the producers of exports from low-income countries with a livable wage and fair labor practices, while employing sustainable production practices.
How can I become more involved?
In addition to purchasing Peruvian Classics products and spreading the word to others, you can also join our team at Ends of the Earth Treasures. We are 100% volunteer group made up of people with a passion for the work Scripture Union is doing in Peru and a desire to support its efforts in providing hope, love and a future to children living on the streets. Please Contact Us to find out more.
You are always welcome to visit Scripture Union of Peru and be part of the work taking place there.  Throughout the year there are groups of people from churches and organizations that travel to Peru as part of work teams, helping in the construction of new homes for the kids, or offering free medical clinics, or providing VBS and work with the children.  Please let us know if you have any interest in becoming more involved.
Read more:
Part 1: Our Mission and Mission Partner in Peru
Part 3: KUSI- The Newest Boy's Home
Leave a comment
Comments will be approved before showing up.